Switch Mouse Buttons
"Switch Mouse Buttons" is a small Windows utility to switch the mouse buttons for left-handed and right-handed use. It's handy when you switch your mouse between your right hand and your left hand. Works for your desktop or laptop computers running Windows 7, 8, and 10. Use for Remote Desktop as well. Great for exercising both hands to reducing carpal tunnel syndrome.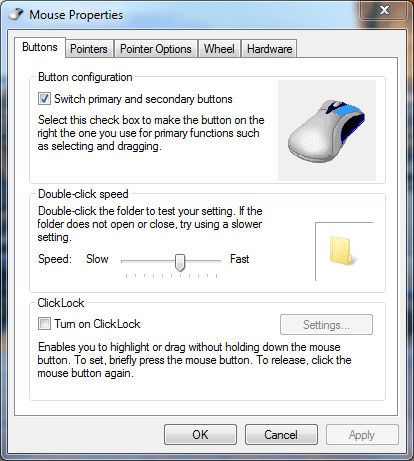 Double-click the "Switch Mouse Buttons" app once to switch the primary and secondary mouse buttons. Do it again to swap the buttons back. "Switch Mouse Buttons" works by launching the Windows Mouse Properties, check/uncheck the "Switch primary and secondary buttons" setting, and closing the dialog.
"Switch Mouse Buttons" is distributed as freeware. You may freely distribute "Switch Mouse Buttons, so long as you distribute the entire software package as a whole. Please see the Freeware license agreement on this site.
Installation
After downloading the archive and extracting all of the files to a new folder.
Download

Switch Mouse Button 1.0 is now available. The current build is 2019-12-26. See Change Log.